Singapore officially opens Tuas port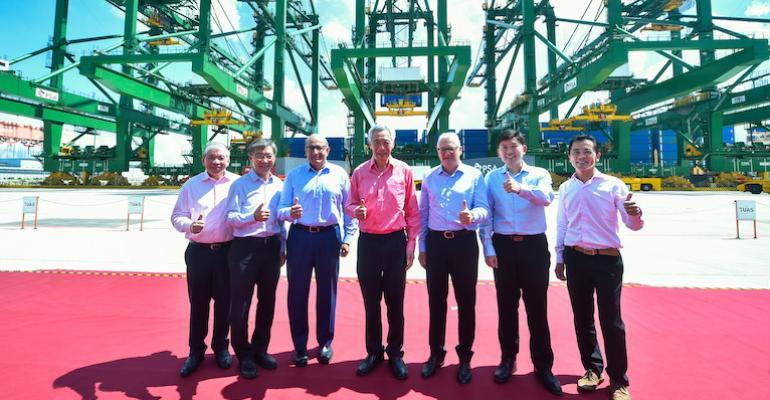 Singapore officially opened the port of Tuas on Thursday as the republic will consolidate all of its container terminals into one location over the next 20 years.
There are currently two berths operating in the first phase of Tuas Port, operated by PSA.
The official inauguration on Thursday morning was welcomed by Singapore's Prime Minister Lee Hsien Loong, who highlighted the development of Tuas port in his speech at a National Day rally last month. At the opening ceremony, the Prime Minister reiterated the critical nature of Singapore's port development.
Local media quoted Premier Li as saying that the port of Tuas will "support the growth of maritime traffic and global trade, and strengthen our connectivity and ability to provide efficient and reliable services".
"It will cement Singapore's position as an international maritime hub and enable many related industries to flourish," he added.
Singapore is currently the world's second largest container port and the largest container transshipment hub after Shanghai, and an important node for Asia-Europe trade. Currently, it is spread across three terminals west of the city centre - Brani, Keppel and Pasir Panjang.
The coastal depth of Tuas Port is 23 meters and the total berth length is 26 kilometers. Once fully operational in 2040, it will be the world's largest single-site automated container terminal with a handling capacity of 65m TEU.
Tan Chong Meng, Group Chief Executive Officer of PSA International, said: "As an enabler of global trade, PSA has contributed to Singapore's success as an open and connected trading economy. Tuas Port provides us with a mission to reinvigorate the digital age. opportunity, I believe it will further boost the growth of trade flowing through Singapore.
"By integrating our port operations with the larger Tuas ecosystem, and by working with like-minded partners to deliver integrated multimodal solutions, we can better address the increasing complexity of global supply chains."
The reclamation of the first stage of Tuas Port was completed last year, and the second stage of reclamation is in progress.